At the Innovative Cancer Institute, we specialize in treating patients who have cancer using radiation therapy, instead of the more traditional chemotherapy and surgery approaches. And after treating thousands of patients and working with many south florida and international referral doctors and medical staff we realized how little awareness there is about Radiation Oncology.
So today we are here to discuss the basics of Radiation Therapy so that everyone can understand more about this lesser known, but very important and beneficial treatment for cancer.  In the following blog post we will help you understand what exactly Radiation Therapy is, why it's a great treatment option, who is involved, how it's delivered, and where to find it near you.
What is 
radiation therapy

?

Radiation therapy is a highly effective and minimally invasive cancer treatment option, separate from chemotherapy and surgery, although sometimes is used in conjunction with.

Radiation therapy, sometimes called Radiotherapy, is a type of cancer treatment that uses a high dose of radiation in order to shrink or eliminate cancer inside the body. Radiation therapy can be internal or external beam.

The term "radiation therapy" mostly refers to external beam, but at the Innovative Cancer Institute we offer more than one type of radiation, and which is right for you varies from patient to patient. That's why we take a customized approach to make sure your treatment is specific to you.
Why use 
Radiation Therapy

:

Our approach is to deliver high precision, image-guided Radiation Therapy that allows us to protect adjacent organs, while eliminating the cancer without surgery.

Radiation therapy is just as good at eliminating cancer cells as traditional treatments like chemo and surgery but have many unique benefits
It's much faster and incredibly more convenient when compared to surgeries
It's completely safe as the radiation is highly 

target

ed, no other organs or tissue are ever at risk
The cosmetic results are excellent
Often better at minimizing chances of recurrence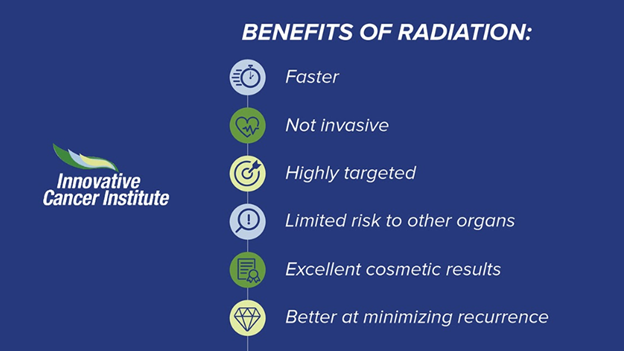 How Does 
Radiation Therapy

 Treatment Work?

External-beam radiation therapy delivers radiation from a machine outside the body. It is the most common radiation therapy treatment for cancer.

Radiation Therapy is delivered by special machines with linear accelerators and advanced technological systems to safely administer the radiation in the precise location to eliminate the cancer cells.

When you start your treatment, each session is brief and entirely painless, like when you get X-rays. Unlike surgery, which is highly invasive, Radiation Therapy penetrates the body in a very precise way over a series of short outpatient treatments – so you never have to stay in a hospital.

In most cases, Radiation is applied in daily treatments that only 10-15 minutes and are conducted over a few weeks.  There is no need to miss out on work or life during the course of treatment.
Who manages 
Radiation Therapy treatment

?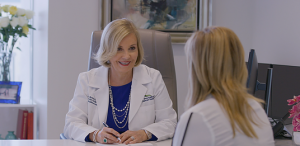 At the Innovative Cancer Institute, we have a highly trained team of medical experts that will develop and delivery your customized treatment plan.
Radiation Oncologist

s

The teams are led by our Radiation oncologists, Dr. Beatriz Amendola and Dr. Allie Garcia-Serra.  They are expert oncologists that specialize in Radiation Therapy treatment and Radiosurgery, and will work with the staff from Innovative Cancer Institute develop a plan, track the treatment progress, and make adjustments as necessary to make sure you receive the best care possible.

These doctors have extensive training in cancer medicine and how to use radiation to safely treat disease, with over 45 years of experience combined and are board certified.
Medical Physicists
Medical physicists work very closely with the radiation oncologists in planning and delivery of cancer treatment. They oversee the dosimetrist and develop complex treatment plans that can be perfectly tailored for each individual patient.  Our medical physicists are also in charge of making sure the equipment works properly by taking precise measurements performing safety checks on a regular basis.
Dosimetrists
Dosimetrists specialize in calculating the specific dose of radiation that ensure the cancer gets enough radiation. Using computers and working closely with physicist and oncologist, they develop a treatment plan to destroy the tumor while sparing any healthy tissues.
Radiation Therapist

s

A radiation therapist will work with our radiation oncologists to administer the daily radiation treatment under watchful eye of the doctor and according to the oncologist's prescription.  They also maintain daily records and maintain the machines to make sure everything is working as it should.
Radiation Oncology Nurse

s

At the Innovative Cancer Institute, we also have a team of nurses who have experience in Radiation oncology. They are essential to implementing your treatments and guide you and your family before, during and after treatment. They will conduct daily tests and are very helpful in explaining possible side effects of radiotherapy and can help you manage them.
Other Healthcare Professionals
Throughout your cancer diagnosis, treatment and recovery you will likely meet various other healthcare professionals.  These specialists can help provide support for other your physical and psychological needs that occur.
Where Does 
Radiation Therapy

 Take Place?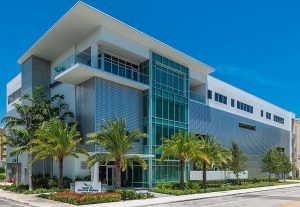 Radiation Therapy requires advance machinery, teams of trained experts and a facility that can safely house them.  Most Radiation Oncology equipment requires shielding within vaults for maximum safety.
You can find these options at large hospitals and teaching hospitals across the country but at the Innovative Cancer Institute, in South Miami, Florida, you get the same if not better state of the art technology, cutting edge treatments and service that you find in major hospitals but in a family practice environment that is more manageable, friendlier and takes care of you holistically.
At ICI, we have two state of the art Radiation Therapy Machines and our own CT scanner. In 2014 We installed a Varian EDGE system, only the second one in all of the US, and first in FL, allowing for more specialized Radiation Therapy and Radiosurgery treatments
Radiosurgery is a very precise procedure utilizing targeted radiation in large doses to destroy tumors. It is noninvasive and very effective alternative to surgery or conventional radiation therapy for treating tumors and other medical conditions.
Edge® radiosurgery system represents an evolution in the way advanced radiosurgery is delivered.  The Edge radiosurgery system provides a turn-key solution for delivering full-body radiosurgery treatments with accuracy.  Edge offers advanced tools designed to deliver highly conformal dose distributions to tumors of the lung, brain, spine, and other areas of the body where radiation is indicated.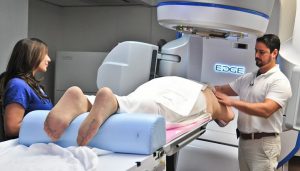 The ability to accurately deliver targeted treatments and manage tumor motion is driving growth in radiosurgery.
One of the key aspects of radiosurgery is precision and accuracy. Edge radiosurgery tracks the patient's tumor in real time for intracranial and extracranial treatments, precisely calculates patient movement in all six degrees of freedom, and monitors respiratory motion.
By integrating the highest dose rate (2400 MU/ minute) with non-ionizing, direct and real-time guidance for target location, Edge offers surgeons and clinicians the ability to pinpoint the target and deliver highly focused treatments, in fewer sessions and at a noticeably fast rate while minimizing the dose received by surrounding healthy tissues.
And in late 2018, we were the first in Florida to have the new Varian Halcyon 2.0. Halcyon allows for transformative radiotherapy treatment, with an advanced system that elevates the way we are able to treat patients and enables access to highest quality care.
Its advanced design is optimized to deliver quality cancer therapies for every appropriate patient that maximizes our customization for each individual.  Halcyon is engineered ergonomically to be intuitive, friendly, and comfortable for clinical staff and patients alike.
Bigger isn't always better.
Hospitals and large cancer centers tend to have longer wait times, more delays in scheduling appointments, longer periods between tests and results, and are less likely to provide you with a full range of options.  At ICI we don't see patients as numbers instead we see them as family and our entire staff is there to help our patients through this difficult time.
Innovative Cancer Institute was built to be a cancer center where doctors and patients will find state-of-the-art technologies and minimally invasive treatments, maintaining a small practice environment, while treating patients like family.