Dr. Allie Garcia-Serra
MD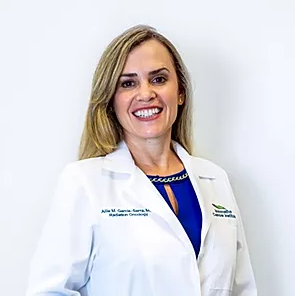 Dr. Allie Garcia-Serra is an expert in treating head and neck cancer, gynecologic malignancies, prostate cancer, and breast cancer. She is an active member of the American Society of Radiation Oncology (ASTRO) and completed her radiation oncology residency over 15 years ago. She was born and raised in Miami, Florida.
She is fluent in both English and Spanish. Gynecologic malignancies treated include cervical cancer, endometrial cancer, vaginal cancer and vulvar cancer. She has extensive experience in brachytherapy. She was trained in CyberKnife radiosurgery technology in 2007 and she received her gamma knife radiosurgical training at the University of Pittsburgh in 2012. She has given many lectures both locally and abroad, in English and Spanish. She has published multiple articles in peer- reviewed journals mostly in the field of head and neck cancer.
Dr. Allie Garcia-Serra completed her residency training at the University of Florida where she became an expert in head and neck cancer treatment. Subsequent to this she ran the radiation oncology gynecologic oncology program for over 10 years at Baptist Hospital of South Florida and later at Miami Cancer Institute.